Design your own website with WordPress

 
1 Choose a domain name and hosting service
To build your own website with wordpress you are going to need two things: A domain name (a web address like yoursitename.com) and hosting service (that connects your site to the internet)
 Get started quickly & easily. I recommend Namecheap they have a very good online chat service that is available for anything you need help with. Namecheap provides every customer with the necessary tools to get a fully-functional website up and running as quickly as possible.
With your domain name, you'll also get a personal email account(s): you@yoursite.com which is a lot more professional than a generic Gmail or Yahoo email address. Namecheap hosting services will provide you the details on how to download set up wordpress
2.Choose a Website building platform
You can build your site using HTML (code), Flash or CSS. Although these can take a lot of time to learn and are quite tricky to do well. A lot of people think that creating a website from scratch is too difficult or involves a lot of coding and design skills – but that is not true! Content management systems (CMS) like WordPress means creating a website can be accessible to anyone.
When thinking about website design cost, WordPress is undoubtedly the best! It is free and has plenty of themes to choose from. It is a very good user-friendly website building platform that allows you to manage your own site. The website you build will be fully responsive, looking fantastic on any mobile device, smartphone or tablet.
How to install WordPress using Softaculous
Once you order hosting service, you can start creating your own website. Using Softaculous automatic app installer you can install WordPress in a few clicks.
Below you can find step-by-step guidelines covering the process:
1. Log into your cPanel.
2. Navigate to Exclusive for Namecheap customers section > Softaculous Apps Installer menu:

3. On the homepage, click on the WordPress icon: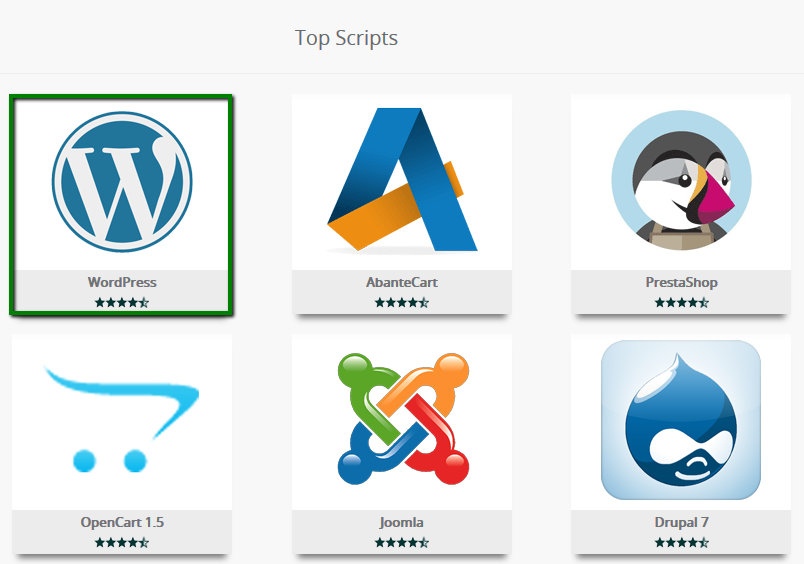 4. Switch to the Install tab to proceed: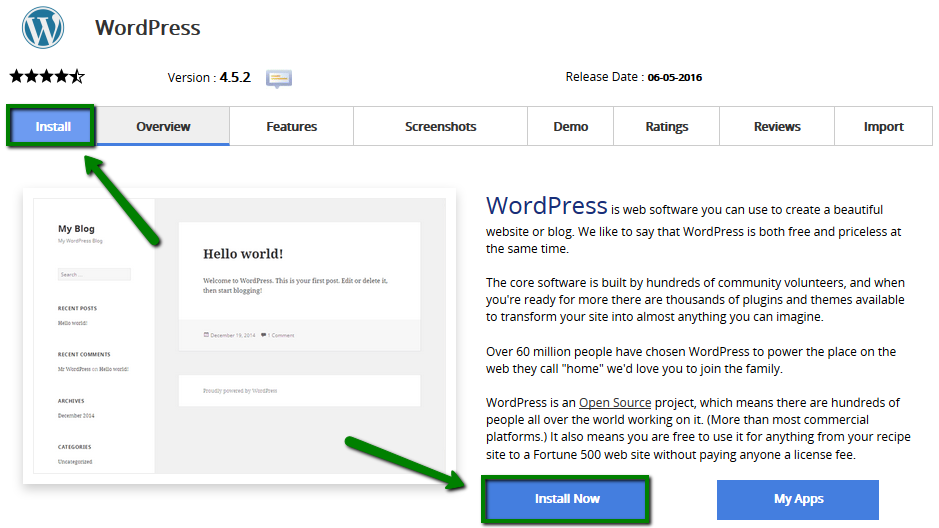 5. On the next page you will need to fill out the details of your WordPress installation.
Choose the domain you wish to install WordPress for
In the In Directory field you can specify the root folder for WordPress installation. By default, this field is empty, and it allows installing WordPress on yourdomain.com directly. If you wish to install it to a subfolder, like yourdomain.com/blog, simply type "blog" in this field.
Database Name can be left default.
Table Prefix can also be left default wp_; however, due to security reasons it is better to change it, e.g., to ncwpsite_ .
The Site Settings section should be filled out accordingly to your needs, though you can change it anytime later if required.
Make sure you set up secure and hard-to guess details in the Admin Account section:



6. When ready, scroll down and hit Install.
In a few moments you will see the message that WordPress has been successfully installed: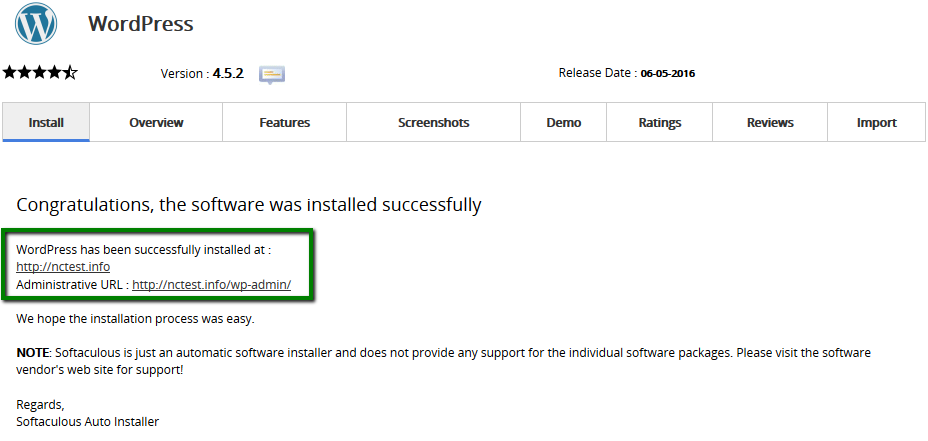 3 Choose a Theme for your website
Once you have successfully installed WordPress to your domain, you'll see an empty, basic yet site. Change the theme to suit your business and you are now ready customize your site. I recommend Themify they have lots of different themes and great support, which you will need if doing it yourself
Start with your website design ideas. A beautiful professional website design is important to draw a web visitor. The website designer should certainly always use the colors that go well the theme and purpose of the website. Maximum two or three colours will need to be used to during web design and usually, those colours should not really hinder the visibility of the website.
Add the right amount of graphics. When building your website think about the graphics. These may be utilized to make a website look believable but really it may possibly prove intrusive. The webpage carrying heavy graphics can take lot of time to load. Web design which is built around basic and easily loading images is always preferred by the visitor.
I hope this helps you if you need any further assistance I would be happy to help. I can offer a range of services from free websites (with a hosting plan) to SEO services and maintenance packages Contact me for more information